Fill Tags with an AR? [Improve your AR-15 hunting experience]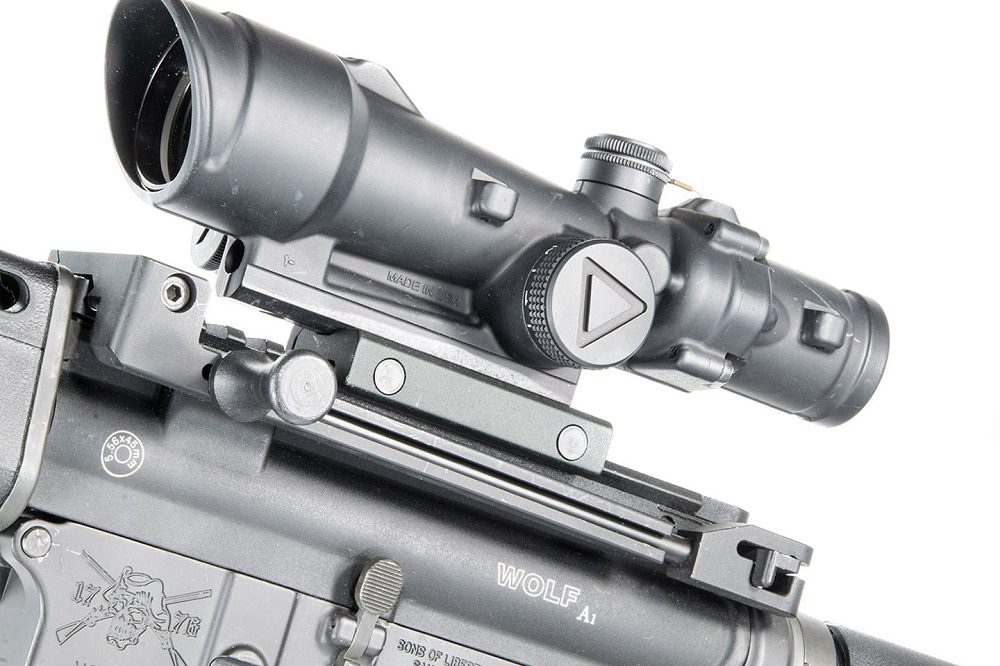 Do You Fill Tags with an AR-15?
The Devil Dog Concepts Hard Charger® system can greatly improve your hunting experience with an AR-15 Platform rifle.
Do you Hunt with a Scope on your AR-15?
If you are an avid hunter and love using an AR-15 as your go to hunting rifle, this may just be the charging system for you.  There are many advantages in having one on your hunting rig. The Devil Dog Concepts side charging handle is a game changer for loading that first round as well as clearing a miss feed or the dreaded dud round.  One of the largest advantages this unit will offer is when you are using a larger optic such as a scope.  When using a scope, it can be a huge pain to try and get to the standard charging handle.  The Hard Charger® allows me to easily stay right on target and clear any malfunction there may be unlike the standard charging handle I was using before.  I also don't have to squeeze underneath my scope to try chambering a round.  Instead, I am able to charge it from the side, super quick, and super painless.
Do you Hunt with Gloves?
A lot of the hunting I do living on the North East part of the United States is done in cold weather conditions.  Any time you are hunting in colder climates you will almost always be wearing gloves.  Wearing gloves and trying to charge a round with a standard charging handle can be a huge pain.  Trying to pull back the standard charging handle with a pair of thick hunting gloves seems to be almost impossible for me.  I almost always end up having to remove a glove and charge my rifle, which not only exposes my hand to sometimes extreme cold temps, but also interferes with the capability to be able to charge a round quick and efficiently.
After Installing the Devil Dog Concepts Hard Charger®, I had zero of these same issues.  The Pull Handle I chose out of the many they have to offer was the Tactical Pull Handle.  This handle offers the perfect amount of material to grab while also keeping a very slim look, making it a very easy Side Charging System to use while keeping your hands warm at the same time.  I see this as a very crucial item that not only helps keep me safe from the elements but also enhances my chances at a trophy.  This is the only Charging Handle System I will be using on any of my hunting AR rifles from now on.
Run Your AR-15 as a Single Shot Rifle?
There are many laws that the modern day hunters have to abide by in the United States.  In some states you may not always be able to run your hunting rifle as a semi-automatic.  You might be required to run a "bolt action" or "single shot" style firearm.  If you unfortunately live in a state that limits you to this and still want to use your AR-15 as the hunting rifle that it is, The Devil Dog Concepts Hard Charger® makes this possible for the everyday hunter.
If you run your AR with a single shot conversion set up, you already know how annoying it is to chamber another round.  Having to come off your target and waste crucial time can make your hunt a disaster. The DDC Hard Charger® allows an easy and quick side charging action to eject your spent round and chamber another to get you back on whatever game you might be hunting, without ever coming off of your target.  Unfortunately, we all know in hunting there will be times where you may need a second round.  This could be a complete miss or a poorly placed shot, but being able to stay on your target and load another round can be a very crucial part to a successful hunt.
Conclusion
Anything to me that enhances your chances to make a well placed, clean kill, without injuring the animal will always be a win in my book.  The Devil Dog Concepts Hard Charger® is the real deal.  This system has greatly enhanced all my hunts since getting myself one.  There are so many ways this system has benefited me in my hunting career and I know it can do the same for you.  If you are timid on giving this system a try, I personally would tell you that you will not be disappointed.  Why would you ever go back to a standard charging handle? I know I won't.  If for some reason this system doesn't work for you, Devil Dog Concepts has an awesome customer service team that will help resolve any issue you may have.  I hope this helps resolve or answer any questions you may have or gave you some insight about some benefits you may not have been aware of that the Hard Charger® brings the hunter using the AR-15 rifle.
Join the Family...

With HUNDREDS and HUNDREDS of 5-STAR ⭐⭐⭐⭐⭐ REVIEWS, if you are looking for a better option or to improve your capability, you need to check this system out!
Sign up here and get all of the ARTICLES and VIDEOS that go in more detail and depth about the Hard Charger®, it's BENEFITS, and use in TACTICAL, COMPETITION SHOOTING and other environments.
PLUS, you'll get first notice of PROMOTIONS and DISCOUNTS, stay informed with our newsletter, get the details on PRODUCT UPDATES, and get first notice on our FREE GIVEAWAYS of GEAR, SURVIVAL EQUIPMENT, and even PURE SILVER!